SOLVED: Can't access AOL website (8 easy solutions)
AOL, formerly called America Online, is an American global media and technology company. Their website covers news, politics, sports, and the latest headlines.
Some users complained that they can't connect to the AOL website, while other sites work fine
They tried to look for a solution and found out that their router prevented them from accessing the website.
In this guide, you will find that tips like restarting your router, editing your Windows Hosts file, installing a VPN, and other easy tricks will help you solve this issue
X
INSTALL BY CLICKING THE DOWNLOAD FILE
AOL, formerly called America Online, is an American global media and technology company that offers premium content and innovative technology.
A subsidiary of Verizon Media, AOL offers Internet users services that include e-mail, AOL Instant Messenger (AIM) software, AOL Video, video search, news, sports, weather, stock quotes, and MapQuest, an online source of maps and directions.
Their website covers news, politics, sports and is a great source for the latest headlines
Unfortunately, there are users who can't access the AOL website. If you are one of them, there are some possible causes:
The website may be down, and in this case all you have to do is wait for a few minutes, then try again to access it.
If you can load the site on other devices, there may be a problem with your computer or network.
The website may only be available for some specific countries.
Your ISP provider may restrict your access to the AOL website
No matter what is the reason behind your restricted access to this website, follow these 8 tips below to quickly fix your issue.
What can you do if you can't access AOL website?
1. Check your Internet connection
If you think that your Internet connection is down, try accessing another website and see if it loads.
In case it doesn't, you have to check your Wi-Fi settings, by following these steps:
Click on the connection icon from your taskbar.
Select the View Connection Settings link from the drop-down list.
In the Network pop-up window, check if you see Connected status.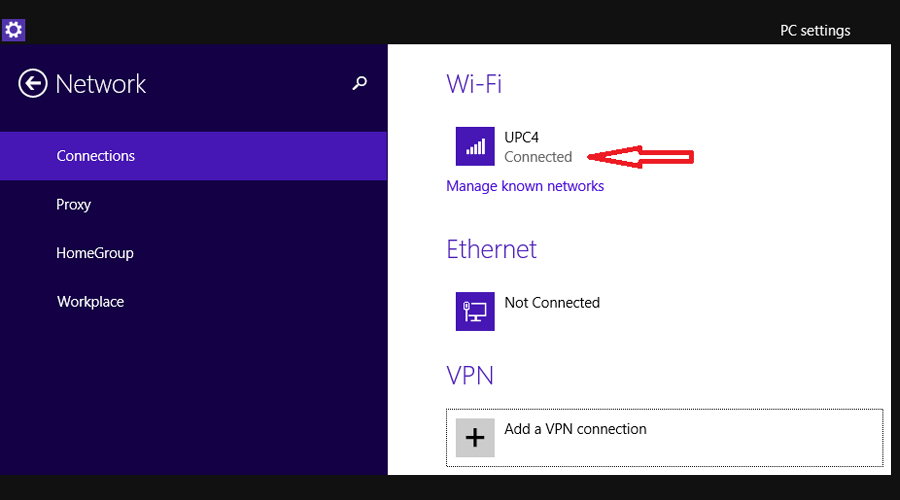 2. Test and manually reset your router
It is not uncommon to experience problems with your home router and this may cause a website or web page not to work.
To check if your router or modem works properly, disconnect the power cable and wait for a few seconds, then plug the cable back into the device.
Open your browser, refresh it by pressing F5 on the keyboard, and test if you still can't access the AOL website. If it doesn't work, proceed with the next steps.
3. Check if you accidentally blocked the website on Chrome
There are some situations when you accidentally block a website in Google Chrome or even the browser might block your access to certain websites.
This happens when Chrome considers that the website is dangerous and can harm your device.
If you think that you unintentionally blocked the AOL website and therefore you can't access it, try to unblock it from the restricted list, by following these steps:
Open Google Chrome, click on More icon, from the upper right corner, then on Settings.
Scroll to the bottom of the page and click Advanced.
In the System section, click on Open your computer's proxy settings option.
In the Internet Properties pop-up window, click on Security tab, select Restricted sites, then click on the Sites button.
If you find AOL website on the list, select its URL then click on Remove button.
Close Chrome browser, then try to access AOL website to see if you fixed the issue.
4. Edit your Windows Hosts file
The Hosts file is used by your operating system to map human-friendly hostnames to numerical Internet Protocol (IP) addresses which identify and locate a host in an IP network.
The Hosts file contains lines of text consisting of an IP address in the first text field, followed by more hostnames.
Perform the following actions to reset the Hosts file and unblock AOL website, in case you can't access it:
Click on File Explorer icon from your taskbar.
In the File explorer tab, search for System32 and click on C:WindowsSystem32.
Look for drivers in the list and click on it, then on etc.
Right-click on the hosts and open it with Notepad. If you see AOL website in the list, it is possible that your hosts file have been modified.
Select the line that contains AOL URL and delete it. Save the changes and close Notepad.
Restart Google Chrome and check if you can access the website.
5. Use a VPN
In case the previous steps didn't solve your problem, try installing a virtual private network (VPN) for another layer of protection.
Since access to the Internet depends on geo-restrictions, you need a VPN to bypass them and connect to a server from a different location.
By pretending that you are located in another place, it will help you especially when you can't access websites like AOL.
By using industry-leading privacy tools you can bypass local limitations and have access to the AOL website again anytime you want. 
Therefore, by choosing the most efficient VPNs out there you will gain access to restricted websites for your daily content.
Conclusion
Even if you can't access a certain website, hopefully, you can unblock it by following one of the steps detailed in this article.
First, you need to understand the reason behind the issue and act accordingly.
For instance, if your location affects your online activity it means that it falls under geo-restrictions, and installing a VPN can help you bypass them.
At times, editing your Windows Hosts file, checking if you accidentally blocked the website on Chrome, or even trying a different browser, may get you back on AOL website.
Start a conversation
comments