5 Best Game Launchers for PC to Play All Your Games in 2023
Check out these game launchers that you surely need
Game launchers are all in one software that help you organize everything related to gaming.
You can stay in touch with your peers, keep informed about news in the industry, download new games, and more.
Below are recommended game launchers with various features such as performance optimization or customizable categories and filters.
Those with extensive Windows game libraries can't always organize them effectively. Steam, GOG, and Ubisoft Connect are examples of PC game launcher software options with client software you need to access before opening games.
Thus, you'll usually have to start multiple game clients separately to launch the games. As such, some software developers have now developed game launchers with which you can organize your Windows games within a single library more efficiently.
Game launcher software enables you to organize all your games from separate digital distributors and Windows folders within a single package.
Then you can quickly open all your games straight from the game launcher software without shuffling through countless subfolders.
Game launchers are a gaming equivalent of Google Picasa. Which imports and organizes images on your HDD so that you can quickly find and edit them within a single program.
The programs usually have customizable interfaces and search tools. Plus some also include extra options and settings with which to optimize your gaming system.
Why do I need a Game Launcher?
There was once a time when we had games dispersed throughout all of the home screens of our devices, but then the game launcher software appeared.
These launchers give the user the ability to download and install games, maintain the up-to-date state of the game, and sprinkle a lot of their own features here and there. Such as the potential to repair any games that have been damaged in any way.
Free game launchers are available in a broad range for users of the Windows operating system to pick from. On the other hand, if you are looking for an application that is already incorporated into the device and comes pre-installed, you will not be able to discover one that fits your criteria.
However, we can promise that the programs that are going to be mentioned below are of such a good quality that you won't miss having a launcher that was pre-installed on your device. It is definitely worth your time to give them a go.
A true gamer needs the best browser
Complete your gaming setup with Opera GX. It's a customizable browser designed for gamers, with a futuristic design and a game-focused interface. It includes optimization features for resource consumption: CPU, RAM and bandwidth limiters.
The browser has integrations with Twitch, Discord, and other messengers, plus a gaming newsfeed with a new releases calendar, tournaments info and other gaming events. Moreover, to keep your sight focused on gaming elements, Opera GX includes an easy to enable dark theme.
Opera GX
Play games lag-free, chat with your peers and keep up with all new releases!
What is the best game launcher on PC?
Steam – The most popular choice
Steam is without a doubt the most popular game launcher for Windows on the market. It offers thousands of different types of games, making it a good fit for all kinds of game enthusiasts.
The UI is modern and easy to navigate. You can access the store and the game library easily by clicking their corresponding tabs at the top.
As previously mentioned, the Game Store comes with a wide variety of games. Finding a game is easy with the organized catalog. You can browse game categories and game genres. And even see the games recommended to you either by your friends or curators.
Similarly, the organized game library makes it possible to easily find the games you're looking for. You can see your most recent games, order them alphabetically, and more.
Steam also makes it easy to connect with gamers. You can add users as friends and connect with them via instant messaging. Not only does this make you part of a community, but it can also help with finding peers for team-based games. Thus, we regarded it as the best Windows 10 game launcher.
Other key features of Steam include:
Controller and VR support
Support for game developers and publishers
Informative game hubs
Steam Workshop
Integrated live-stream
It may come as no surprise that it makes the top of our list. But keep in mind that the main criteria for this pick are the features and user experience. Market share is just a bonus that validates the quality of the software.
GOG Galaxy – Supports cross-platform games
GOG Galaxy 2.0 is a comprehensive, unified game launcher. Its core strength is that it can be used for games across all platforms, including non-GOG titles.
Users of GOG Galaxy can import all their PC and console games into one library with many different sorting features for good accessibility.
Keep in mind that in order to be able to use other gaming platforms' specific features, you have to keep that platform installed on your PC along with GOG Galaxy.
The user interface is easy to navigate. You can organize your game collection in many flexible ways, according to your preferences. You can also use certain filters that help display only certain types of games.
Some PC issues are hard to tackle, especially when it comes to corrupted repositories or missing Windows files. If you are having troubles fixing an error, your system may be partially broken.
We recommend installing Restoro, a tool that will scan your machine and identify what the fault is.
Click here to download and start repairing.
GOG Galaxy also has a Friendlist where you can chat with your gaming friends. It also comes with an Activity Feed; where you can check what your friends are playing and with Leaderboards for more accessible team play and competitions.
Other key features of GOG Galaxy include:
Sync between devices
Custom views
Cloud Storage
Multiplayer & Matchmaking
Restore games to older versions
The privacy of the users is greatly valued. GOG guarantees no data spying or sharing, all information is entirely private to the user of the app.
Epic Games Launcher for PC is the free official distribution platform that has been given permission to distribute this developer's proprietary software and games.
Through this program, keen gamers are granted access to a variety of exclusive in-house games, new Unreal Engine platform launches, and the best offers from other companies as well as licensed third-party developers.
Similarly to these privileges, members are entitled to exclusive discounts and free premium games at regular intervals.
The Launcher is available as a free download for Windows-based personal computers, and it competes with Steam, Origin, and the Microsoft Store in terms of providing a possibly superior option.
Other key features of Epic Games Launcher include:
Ease of access
Minimized view
Player cards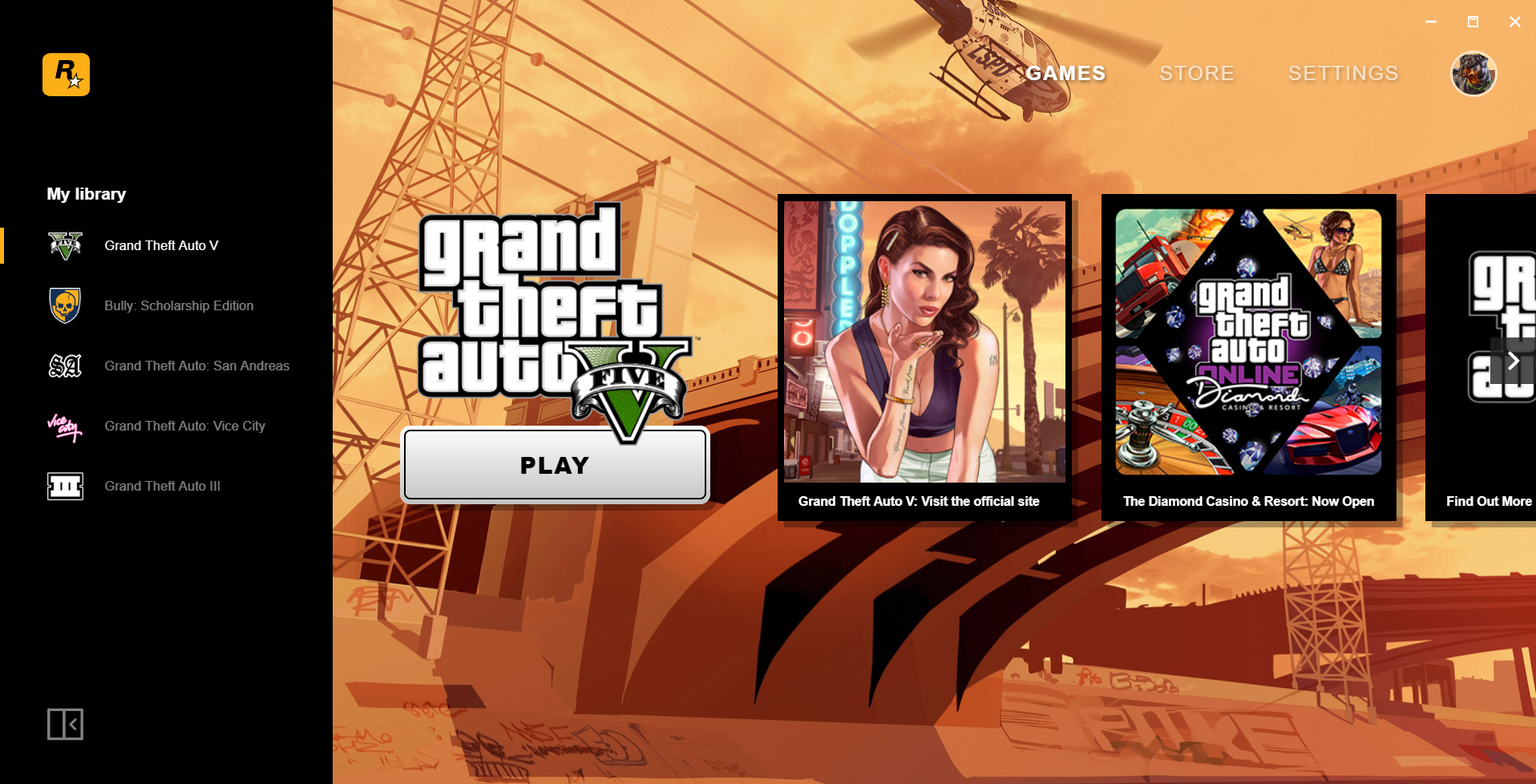 Rockstar Games is the proprietor of the Rockstar Games Launcher, a digital video game shop that is incorporated into an application launcher for Microsoft Windows and is made available by Rockstar Games.
On September 17, 2019, the PC Rockstar Games Launcher was made available to the public. In order for the user to access it, they will need to check in using their Rockstar Games Social Club account.
The desktop program gives the user the ability to quickly access their entire Rockstar Games library on their personal computer in a single location. This includes both their digital and disc-based games, as well as those games that they have acquired from a variety of other digital retailers.
It includes a plethora of features, some of which are the addition of cloud save functionality for all supported titles, the capacity to keep the user library automatically updated, and the ability to follow all of the most recent Rockstar Games news directly from within the Launcher itself.
Other key features of Rockstar Games Launcher include:
Intuitive interface
Popular games
Free games
⇒ Get Rockstart Games Launcher
Ubisoft Connect – For Assassin's Creed enthusiasts
Ubisoft Connect is the player services ecosystem for all Ubisoft games, regardless of the platform they are played on. Its goal is to provide the optimal atmosphere for all players so that they can interact with one another and enjoy playing their games.
It is a free service that is accessible on all different kinds of devices. You may access it on your own computer, via an app on your mobile device, or on your gaming console straight from inside the games itself.
You'll be able to discover your friends' profiles across all platforms, learn what they're playing, and investigate their accomplishments.
Moreover, you can manage and start playing your games via the library, as well as find new material and download it with a single click using our desktop software.
Other key features of Ubisoft Connect include:
Endless giveaways and sales
Displays the latest news
Accessible stats
Simply follow the link below to download the Ubisoft game launcher for PC and boost up your gaming experience.
If you are looking for an Xbox game launcher on a PC, there isn't one as of now, but you will be able to use other launchers that support cross-platform games.
Other users asked whether there is a PC Microsoft game launcher. Unfortunately, with Microsoft Store, you can only download games and apps on your computer, without being able to organize them.
Don't miss out on our list with the top 5+ game booster software for Windows 10/11 PCs in order to boost up your gaming flow.
If you need extra help, take a look at our post on how to automatically optimize newly added games and learn new tips and tricks that you can apply today.
Don't hesitate to leave a comment in the section below and tell us what you think about these game launcher software options.
There are 3 comments
add yours