4 Ways to Fix Maplestory's Lag Spikes and High Ping for Good
Use our suggestions to fix your connection & get rid of gaming latency
MapleStory's high ping and lag spikes can be fixed if you improve your network.
You can solve ISP throttling, insufficient bandwidth, and slow connections with a VPN.
Make sure you free up network space and end any apps that aren't necessary.
Tweaking graphics settings in the game will also help, learn below how to do it.
X
INSTALL BY CLICKING THE DOWNLOAD FILE
Maplestory is an online role-playing game that has gained popularity globally despite the fact that it was originally created for just gamers in Asian countries.
However, there is a new version that is available globally. The game has different servers in various regions of the world.
That being said, gamers might face latency and lagging issues while playing the game.
These lead to bad frame rates, the game responding slower to commands, and other performance issues that diminish any bit of fun that you should have when playing.
Luckily, the problem can be fixed if you check and fix your network connectivity and adjust your settings a little bit.
Why is my Maplestory so laggy?
MapleStory lagging leads to all sorts of problems during the game, leading to a very unpleasant experience. Some of the most notable issues gamers complain about include:
MapleStory lags while attacking
MapleStory lags when using skills
MapleStory lags every few seconds
MapleStory 64-bit lag
This does not mean that the game is terrible and you should abandon the game. It's important to find what's causing the problem and fix that root issue.
➡️ Limited connection – having an Internet plan with bandwidth limits is not ideal for gaming. You can change plans or use a VPN with unlimited bandwidth.
➡️ Hardware problems – It's also possible that your machine doesn't support the full graphics settings of the game. Make sure to check system requirements and lower graphics settings if necessary.
How to fix the Maplestory lag spike and high ping?
1. Use a VPN that can decrease the lag spike
Sometimes the best thing to fix lag spikes and high ping is to use a Premium VPN such as ExpressVPN.
Get an ExpressVPN subscription and download the client to your PC.
Install ExpressVPN and launch it.
Log in with your user and password, or use the activation sent by ExpressVPN.
Click on the big power button in the UI to connect to a server.
Open MapleStory again and see if the issue persists. You can switch around servers until you find the fastest option. ExpressVPN has thousands, in 94 different countries.
You should know that VPNs make your network connection considerably faster and the ping rate lower thus reducing the Maplestory lag spike.
You will also be able to bypass certain restrictions and connect with players outside your geographical location. Also, since the game is gaining popularity rapidly, Hackers might want to steal your account.
Still, if you make use of a VPN, they will not be able to have access to your account as VPN will encrypt your data, and you will be making use of a virtual IP address.
ExpressVPN
Use ExpressVPN to connect to fast and well-performing gaming servers, ideal for MapleStory!
2. Use Ethernet instead of Wi-Fi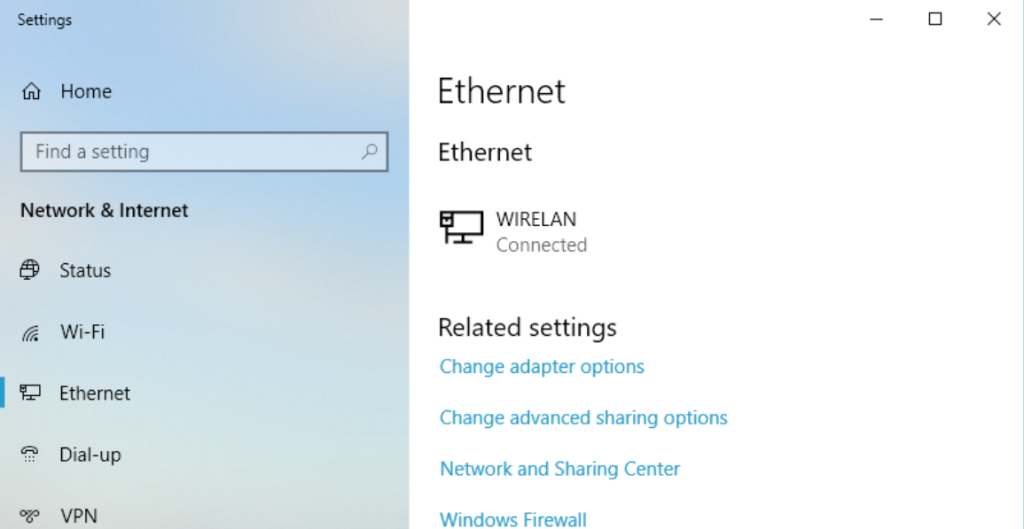 Do you know that almost everything, including the number of devices connected, walls, and even other network signals, can disrupt the WiFi signal you are receiving?
It would be best if you tried using a wired connection rather than relying on WiFi. Many players have a more stable connection and are able to fix the Maplestory lag spike using a cable.
Switching from WiFi to Ethernet will result in a more constant Internet connection and, in most cases, improve the speed of the Internet connection.
3. Close background apps
When playing games on a personal computer, shutting down any apps that are currently running in the background could solve the problem.
Launch the Windows Task Manager menu.
Find out which applications are currently running – in the Apps section.
See which aren't necessary, then click on each one and select End Task.
If you are streaming movies on Netflix and have anti-virus software running in the background, your router will have to work harder to handle the increased traffic.
So it would be best if you closed any web pages that aren't necessary. It can help with lag and also other performance issues like FPS drops in MapleStory.
4. Tweak game settings
Open MapleStory.
Go to Options.
Select the Graphics section.
Reduce the quality of Background and Effects.
Click ok to save your settings.
Check if the game performs better. You can go back and re-adjust them until you find the best-performing combination for your machine.
Even if you have a powerful personal computer, you may experience more frustration than satisfaction if you ask the game to respond to every input you make while maintaining an extremely high frame rate.
To succeed at online gaming, you must ensure that the games you play run at the correct frame rate without causing Maplestory lag spike and high ping.
How do I check my ping in MapleStory?
High ping is when your device responds slowly to your command. You should know that there are options that you can follow to ensure that you have a noticeably lower ping and reduce the amount of money you need to invest in your existing internet connection.
To open the Command Prompt on your computer, go to the start menu and type cmd.
Under the resulting Command Prompt option, select Run as administrator.
Type ping maplestory.nexon.net.
Step 3: Press the Enter key to ping the MapleStory server.
You can use this command to check ping rates before troubleshooting and then run it again, after trying the fixes below to see if it improved.
While Maplestory has been increasing in popularity and the number of users has increased, so has the latency problem.
However, there are certain things that you can do to fix the latency and lagging issues and you should follow our recommendations. Let us know which fix worked for you.
Still having issues? Fix them with this tool:
SPONSORED
If the advices above haven't solved your issue, your PC may experience deeper Windows problems. We recommend downloading this PC Repair tool (rated Great on TrustPilot.com) to easily address them. After installation, simply click the Start Scan button and then press on Repair All.
Start a conversation
comments