Windows 11's L3 cache is way worse than on Windows 10 Pro
A benchmark test ran by a user, on Windows 11 64 Bit, yielded some pretty unexpected results.
Results show that the L3 cache is taking quite a hit, in comparison to the same Bit version of Windows 10 Pro.
The test has been run using the AIDA64 app,

on a PC running on an AMD Ryzen 5 3600, 6-core processor.

Some users question the accuracy of the test itself, as AIDA64 has been known to provide inaccurate readings for the L3 cache in the past. 
Needless to say, everyone is now hard at work testing all the versions of Windows 11 that ended up on the internet, one way or another.
After we discussed that Windows 11 actually runs better than its predecessor, even on old devices, and even offers a smoother gaming experience, users unearthed some irregularities with an early dev build.
After running some benchmark tests on the new OS, some of the results shocked the users that attempted the tests.
If you're interested in finding out what users have to say about other important matters when it comes to the new Windows 11, don't hesitate to have a look at our extensive survey on the matter.
The study was formulated with feedback from 6056 readers from across the globe. Most of the users who responded were from the US, but India, the UK, Canada, and Australia are included as well.
L3 cache takes big hit on the 64 Bit version of Windows 11
Curiosity pushes many users to attempt a plethora of tests on this new version of Windows and, so far, results have been more than pleasing.
A recent thread on Reddit is stirring some controversy among users, with heated discussions related to the overall performance of Windows 11 64 Bit.
The post author ran some tests, using AIDA64, on the 64 Bit version of Windows 10 Pro, as well as the 64 Bit version of Windows 11.
The results, about which he wasn't pleased at all, indicate that the L3 cache is not actually performing as expected. Note that these tests were run on an AMD Ryzen 5 3600, 6-core processor.
As we previously mentioned, its way to early to get caught up in such meaningless semantics, as these early builds of the OS are much too limited and deprived of most of their main features.
Thus, it should come as no surprise that there may still be elements which won't perform as expected. However, this won't stop users stretching this dev build to its limits, trying to find out what makes it tick.
AIDA64 glitch or accurate readings?
Even though the results of the above-mentioned tests were disconcerting to some users, there is still an important question to be asked.
Are these readings as accurate as they can get, or is it that the AIDA64 app just has difficulties with L3 cache readigs?
As strange as it may sound, this application has been known to deliver inaccurate results on this specific cache in the past, as some of the more tech-savvy users pointed out in the thread.
Are you experiencing any actual differences in workloads (even other benchmark results), or only in AIDA's L3 cache speed test? AIDA has had previous difficulties with the L3 cache test accuracy (albeit with Zen 3 CPUs) as well as memory throughput reporting. It's also entirely possible that an under the hood change with that Windows 11 build is simply throwing off AIDA's accuracy (timer change, etc).
A very good remark, as there are many factors which can actually influence the results of this kind of tests.
Not many others have reported similar readings, which could mean that not many have performed this test, or maybe it was a simple matter of inaccurate readings.
The only way we can be a hundred percent sure of the overall performance of Microsoft's Windows 11, is to wait for the finished product to be delivered, officially.
All the tests we undergo now will more or less pointless, once the finished, polished version of the OS will be available for users worldwide.
Even 3DMark benchmark tests are lower than expected on Windows 11
In this constant process of getting to know everything there is about the new operating system, users are going out of their way to squeeze every little bit of information out of it.
Running a benchmark test using the 3DMark software did not bring back better results than previous attempts, performed using different software, as some users may have expected.
In fact, the results were significantly lower than any of us might have thought.
And while many users are totally displeased and are beginning to lose faith in Microsoft's new OS, there are others that constantly remind them that this is still a preview build.
Here's an idea- it's pre-release software and not optimized for your scenario yet.
And indeed, its is way too early to rely on such in-depth tests on such a primordial version of this operating system, which is, as you know, still in the dev channel.
Thus, Microsoft still has a long way to go until it can say that it has delivered a fully functioning, bug free, competent piece of softare.
Windows 11 boosts x86 Hybrid CPUs
Hot Hardware took the time and tested the new Windows 11 on Intel's Lakefield processor. If you didn't already know, Lakefield is currently the only x86 hybrid CPU on the market.
This piece of hardware combines four Atom CPU cores, with a single Ice Lake CPU core. Note that Lakefield is not a high-performance core, as it's designed for power efficiency.
According the tests that took place, the performance gains from Windows 11, over Windows 10, are situated between 2 and 11 percent.
Some of the testing applications used pick up a bit of multi-threading performance, like GeekBench, while others gain in single-thread, such as Cinebench.
The Browerbench Speedometer 2.0 is the one that brought home the gold, registering a 10.8 percent performance jump.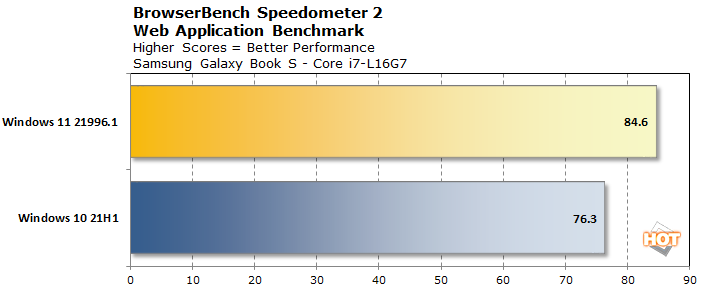 Also worth mentioning is that everyone is still running Windows 10 drivers on these early Windows 11 builds, so it's not impossible that some software updates will improve things further.
Windows 11 is already surpassing Windows 10 performance-wise
Performing these tests and recording such gains are actually really important for a multitude of reasons.
One of the most important reasons is that the results in question indicate that Microsoft has been putting a lot of effort into improving performance in the scenarios users are likely to encounter going forward.
Some rumours even indicate that it's possible these gains will come to Windows 10 in the future. But this is extremely hard to believe, as the company will want to keep them exclusive for the new OS.
There is no actual way that we can know if Windows 11 is more power-efficient than Windows 10, until the final drivers and software versions are available, however good test results are now.
The 3-6 percent performance improvement recorded in these scenarios suggests that Windows has actually improved dropping workloads on the proper cores for the job.
Are you eager to leave Windows 10 behind and adopt the new Microsoft OS? Let us know in the comments section below.
There are 3 comments
add yours