Best gamepads for emulators to buy [2020 Guide]
---
If you're a professional gamer or even just a casual player, you probably already used a gamepad. They are frequently used for all sorts of video games and pretty much any game can be played better if you own a gamepad.
However, in today's article we'll check out a specific category of gamepads: the best gamepads for emulators. Once you've read this article, you'll be able to choose the best one for your personal needs according to your budget and expertise.
Note: Deals are subject to change. Keep in mind that the price tag often varies. We recommend going on the vendor's website to check the price. Some of the products may be out of stock by the time you've made your purchasing decision. So, hurry up and hit the buy button.
What are the best gamepads for emulators to get?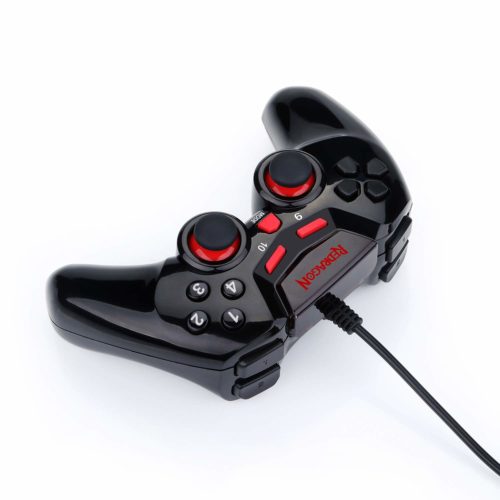 The Redragon G806 is a great product for those who need an entry-level gamepad for emulators. This is a budget-friendly item, suitable if you're a casual player, or you want to get into gaming and test the field out.
It's compatible with multiple platforms, so playing Android games with it won't be a problem. Here are some of the pros and cons of this device:
Pros:
Easy to use due to its ergonomic design
Simple to install with the built-in USB connector
12 programmable buttons which allow for a more immersive game-play
Cons:
Quite small, which could be a downside if you have big hands
2
Momen Mobile Gaming Controller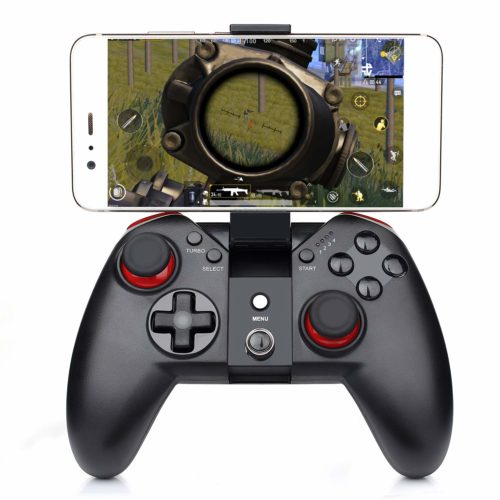 The Momen is a controller especially crafted for Android games. It lets you easily install your Android device on the gamepad, without the need of any technical knowledge.
Once your phone was connected, you can start playing games right away. If you want an item that is specifically built for Android gaming, this is a great choice.
Pros:
Specifically designed for Android games.
Wireless connection with USB dongles.
Quality phone holder suitable for phones up to 6 inches in display.
Ergonomic design and different lighting for the different button.
Cons:
3
Mutop Mobile Game Controller
This is another device, great for more experienced players. As you can tell from the picture, it's specifically built for smartphones, so playing Android games won't be an issue.
However, besides playing directly on your phone, you can use an emulator on your PC to play via this gamepad. Also, it lets you play standard PC games as well, not only mobile games.
Pros:
Wide compatibility: Smartphones / Tablets / PCs
Ergonomic design that ensures the best experience while playing
Phone holder and wireless connection if you play on your PC
Cons:
The only con might be the price for some people.
4
GameSir G4S Bluetooth Gaming Controller
If you want a professional product, created for experienced gamers, and you're willing to pay more for it, this is for you. The GameSir is a controller suitable for all sorts of platforms, emulators included.
It works with a wide variety of PC and Android games, without the need to set it up for each separately. It has a vibration function built into it, making the gaming experience much more immersive.
Pros:
Big rechargeable battery that lasts for 18 hours continuous game-play.
Auto-fire function built in and easily achieved by the press of 2 buttons.
Rapid response and higher sensitivity, than other average items.
Multi-platforms suitable, emulators as well as Android phones.
Cons:
The battery might drop suddenly, but this is more of an exception.
Responsiveness depends on how far away you are from the device (more than 7 feet away results in loss of responsiveness)
5
ZD-N Vibration-Feedback Controller
Here's the last item on our list, and the best for real gamers. The ZD-N controller is built to last and work with all sorts of platforms and games, which means that emulators are only one of the many possibilities.
This is a wired gamepad, that will allow a much better responsiveness, than what other products have to offer. Also, it works directly connected to your Android phone, which will allow you to enjoy gaming on your phone too.
Pros:
Quality build and great grip
Easy installation, both on portable devices and PCs as well
High responsiveness, that results in better gaming experience
Ergonomic design (very similar to Xbox controllers)
Cons:
The only aspect in this section is the price. If you're willing to pay more however, it won't be a problem.
Conclusion on gamepads for emulators
All in all, getting a great gamepad is crucial if you want to enjoy a good time while playing video games. Any of the items listed above can prove to be a good choice.
Considering your expertise and budget, you'll surely choose the right controller for yourself.