Fix: 'System Running Low on Resources: Cannot Log on as new User' in Windows 10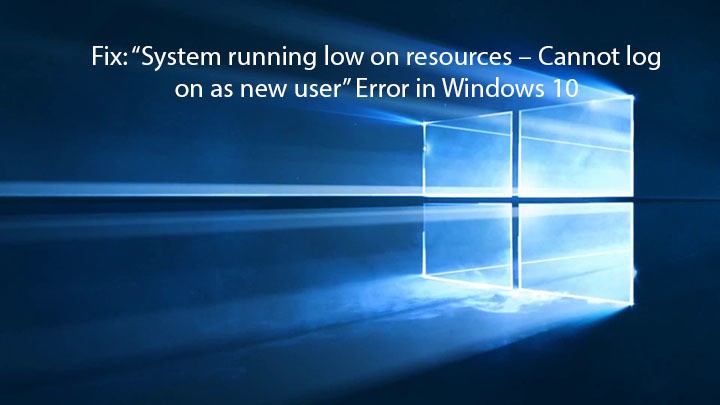 Most computers have two or more 'registered' user accounts on them. Having multiple user accounts on one computer is very useful, but it can cause some problems, sometimes. This time, we're going to talk about the problem which prevents you to log into a user account, showing you the error "System running low on resources – Cannot log on as new user."
How to Solve "System running low on resources – Cannot log on as new user" Error in Windows 10
As you noticed, this error shows mainly on computers with multiple user accounts. And it appears when you switched from one user account to another, without closing all running programs. So, if you didn't close all running programs, before you switched to another user account, there's a chance that error saying "System running low on resources – Cannot log on as new user" will appear on the next reboot.
As you left these programs running, they're now using your memory, and you don't have enough memory to 'run' the next user account. This error usually appears on computers with lower memory, and it was more common in previous versions of Windows, but if your computer is barely compatible with Windows 10, it could show up on your machine, as well.
So, let's see what can we do to eliminate this error, and log in to the new user account, normally.
Solution 1 – Make sure you closed all programs
As I told you, this error probably appeared because of running programs, who use your memory resources. So the first logical step towards solving this problem is to close these programs. So, before logging to the other user account, go to the user account you were using last, and see if there are any programs left running.
When you make sure you closed all your programs on one user account, go to Log out (not Switch accounts), and when you're successfully logged out, try to log in to another user account, again. You shouldn't have any problems this time.
Solution 2 – Change Power Settings
There's one other, similar cause of the problem. This is related to laptops, and it depends on how your computer is set to react before laptop lid is closed. First thing first, you MUST wait until you're logged of to close your lid, don't close your lid while still logged on, because there's a big chance this error will appear.
Also, your laptop's power settings are probably set to put your laptop to sleep, or hibernation when the lid is closed. So, if you really can't wait to close your lid, before you log off, you should do a couple of changes in your Power Management settings. Here's exactly what you need to do:
Go to Search, type power options, and open Power Options
Choose What closing the lid does
Choose Do Nothing when the lid is closed
If you're still having issues on your PC or you simply want to avoid them for the future, we recommend you to download this tool (100% safe and tested by us) to fix various PC problems, such as file loss, malware and hardware failure.
Solution 3 – Clean boot your computer
Go to Start > click on the Power icon > click on Restart while simultanerously pressing the Shift key
A blue screen will appear > navigate to Troubleshoot > Advanced Settings > Startup Settings > Restart.
Your computer will automatically restart > Press F5 to enable Safe Mode with Networking.
Perform a clean boot by going to Start and typing 'msconfig' > hit Enter
On the

Startup

tab > click on 

Open Task Manager

.
Close the Task Manager.
On the Startup tab of the System Configuration dialog box >click OK > restart your computer.
Solution 4 – Scan your computer
Malware may also put a strain on your computer resources, triggering this error. Run a full system scan using your antivirus of choice to eliminate this potential issue.
We also recommend you to install an anti-malware software compatible with your antivirus, as well as an cryptojacking blocker to keep cryptocurrency miners at bay. As a quick reminder, cryptocurrency miners use your computer's resources without your consent, causing slowdowns.
Solution 5 – Fix computer memory issues
If your computer memory is low, this may explain why you're getting this error message. Fortunately, Windows Report published a series of articles on how to fix low memory issues. Check them out and follow the instructions listed there to fix your problem:
That's about it, I hope you now better understand what this error means, and how to deal with it. If you have any comments, or questions, just write them down, below.
Editor's Note: This post was originally published in January 2016 and has been since completely revamped and updated for freshness, accuracy, and comprehensiveness.
Microsoft rolled out the Windows 10 v1903 update and by now a lot of users are trying the new set of features and options included […]
With the Windows 10 May Update, there came a series of bugs and issues that are hard to digest for some. Microsoft is working on […]
The SNMP (System Network Management Protocol) Service processes SNMP protocol requests. However, some users who have updated Windows 10 to version 1809 have said that […]