Cricut Software: 10 Best to Use in 2023
Take advantage of your creativity and choose a solution from our list of Cricut maker software
Cricut machines are great pieces of hardware that allow you to cut magnificent patterns into pretty much any material.
However, designing the patterns will require you good

programs to use with Cricut

.

What software to use for Cricut?

Check out the best design software for Cricut ranging from industry-leading graphics tools like Adobe or Corel to Cricut alternative software.
Cricut 3rd party

 design

software will allow you to unleash your creativity and create models that are both precise and intricate.
We gathered a few of the best Cricut 3rd party software that works perfectly with the majority of models, so make sure to check out these tools.
One more thing before we dive into it: You don't have your own Cricut machine yet? If not, here you will find the best deal on Amazon, check it out.
So let's explore the finest Cricut maker software available today.
Can I use other software with Cricut?
If you're a craft enthusiast and you love your Cricut die-cutting system, then you must know by now that the primary complaint of such digital die-cutting units is that they are much too restrictive.
They only allow you to cut a limited number of fonts. Then, you have to get separation and it doesn't come cheap. But, no worries, fortunately, this issue also has a workaround.
What program does Cricut use? A few do-it-yourselves managed to open or hack Cricut to enable TrueType fonts, customized designs, and more via Cricut alternative software.
We did some research online and polled our readers to find out which SVG software they thought was the best. Illustrator came out on top, followed by Cricut Design Space and CorelDraw. Here's a quick preview of all our picks:
Adobe Illustrator – Most popular option
Cricut Design Space – Extensive assets library
Adobe Photoshop – Robust editing toolkit
CorelDRAW – Vector-based tool
Silhouette Software – Full creative control
Thus, using these apps, your 2D drawings or images can be scaled up or down without losing their quality because, in the SVG format, your 2D design's features are described as geometries, not pixels.
What is the best software to use with Cricut?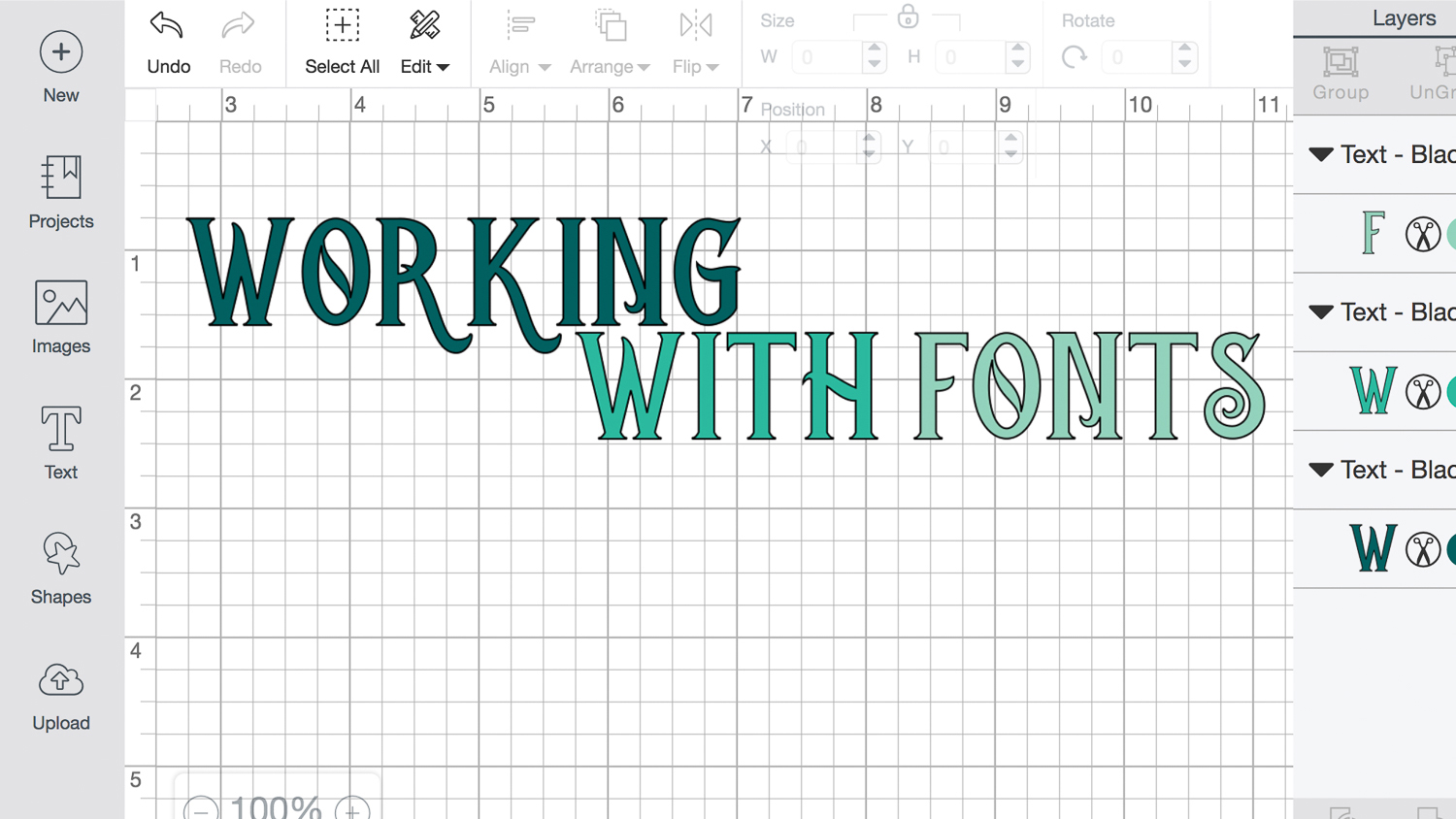 Design Space is a cloud-based Cricut editing software that is both easy to learn and lightweight.
Use it whenever inspiration strikes and take advantage of its cross-platform compatibility that stretches from laptops to Mac, iOs, and Android devices. You can even use it offline! So what's there not to like?
Let's quickly look at its key features:
Extensive assets library (images, fonts, pre-made templates, and more)
Advanced editing toolkit to personalize your project
Create complex details with unmatched precision
Step-by-step tutorials and instructional videos
Extended chat and phone support
Cricut Design Space
Feel free to create and enjoy Cricut's extensive great features.
No type of graphics design can be discussed without mentioning one of the best tools in the trade.
Adobe Illustrator is a vector-based image editor that allows you to create pretty much anything that has shape or color, including Cricut Maker 3 software.
In the case of Cricut designs, this means being able to create complex and beautiful patterns, and that is something that Adobe Illustrator can do without much effort.
The expanded toolset allows you to create models that are both precise and intricate, and the file formats are perfectly compatible with Cricut hardware.
More so, once you are done designing your Cricut patterns, you should know that the software tool can be used for pretty much anything else, as it is not a program with a singular purpose.
Let's quickly look at its key features to understand why we ranked it as the best drawing app for Cricut:
Great for creating intricate and precise patterns
File formats supported by a wide range of hardware and software
Its popularity makes it so that tutorials and guides are not hard to find
The toolset can be further expanded using plug-ins
Can be tested for free
Adobe Illustrator
Turn on vector power to create stunning patterns that perfectly match your Cricut machine!
The world's best imaging and graphic design software need little or no introduction at all, so we're going to jump straight to it.
Just like Illustrator, this amazing tool can be paired with your Cricut machine in order to achieve sophisticated patterns executed with supreme precision.
How we test, review and rate?
We have worked for the past 6 months on building a new review system on how we produce content. Using it, we have subsequently redone most of our articles to provide actual hands-on expertise on the guides we made.
For more details you can read how we test, review, and rate at WindowsReport.
And just like its vector-based sibling, Photoshop is a hugely versatile software that can be used to explore Cricut Air 2 and pretty much anything your imagination can conceive.
Needless to say that such powerful features cannot be confined to a singular platform or workspace. And that is precisely why you can use Photoshop whenever your Cricut inspiration strikes.
From PC to mobile workstations, your progress will be instantly updated across all platforms.
Since so many artists all around the globe are already used to working in Photoshop, creating Cricut files is rather straightforward and comfortable.
Just open Adobe Photoshop, then click on Place Embed to add all the PNGs (or other file formats) you want.
Then start making use of the powerful editing toolset to resize, rearrange, adjust, add layers, group images, and much more until you are perfectly satisfied with the result.
Eliminate the white background (more tools are available for this task – don't be afraid to explore them at your own pace).
Once you're satisfied with the outcome, go to the File menu, name your project and choose to save it as PNG.
Finally, upload your design in the Cricut tool and you're all set.
Let's quickly look at its key features:
Robust editing toolkit (crop, combine, retouch, resize images to perfection)
Cross-platform integration (from desktop to mobile station)
Fully compatible with touch and pen technology
Unlimited layers, masks, filters, and brushes
your work is automatically saved to the cloud
Adobe Fonts integration to automatically detect all missing fonts
Object Selection tool to create fast and precise selections
Adobe Photoshop
Unleash your Cricut creativity with the world's best imaging and graphic design software.
CorelDRAW – Vector-based tool
CorelDRAW Graphics Suite is one amazing all-in-one graphic design software to meet every single one of your needs.
From apparel and textiles to blueprints and maps and all to way to sophisticated illustrations, this feature-rich design suite delivers all the tools you need.
It will help you conceptualize your ideas and take them one step closer to materialization.
If you've simply outgrown your cartridge collection, it's time to take your Cricut skills up a notch. Thus, investing in this performant design software perfectly adapted for Cricut Machines is the next step.
This vector-based tool is preferred by many professional cutters who enjoy its complex functionalities, but home-cutter crafters will enjoy it just the same.
With beautiful typography, support for TTF files, and seamless integration with popular plugins for cutting, CorelDRAW is a great solution to use with your Cricut.
CorelDRAW Graphics Suite
Excellent graphic design program that offers extensive features to help you create freely.
Canva – Countless templates and textures
Canva is a free online design platform that hosts thousands of materials that can be used with Circuit devices.
Firstly, you can use this design creation solution for crafting various products such as business cards, t-shirts, or hoodie materials.
The tool includes plenty of features that will support any creativity needs, no matter the subject. So you can create official documents, social media posts, infographics, or marketing creatives.
In addition, there are no limits regarding sharing or printing the products, so you get the material version and use it however you need
It's also worth mentioning that you can design and print in one place, so your designs are finished in due time.
Canva
Bring your ideas alive with the most used graphic design hub.
The next product on our list is actually not a standalone software, but an already built-in solution meant to facilitate the design process for you.
Indeed, there are cutters that come with full-featured design software. Silhouette Studio is such a tool that allows you to create designs and send them to a Silhouette machine.
As far as we are concerned, the tool does a pretty good job of meeting your basic needs by allowing you to import, customize, and create cutting files.
However, if you want to export your work in formats that can be used with other cutters, you will need to adhere to a subscription plan.
The premium versions of this software are Designer Edition, Designer Edition +, and Business Edition.
Affinity is recognized for its top-notch designing benefits and photo editing or publishing tools.
This design solution is the right place to be as it offers vector image editing and numerous object creation with various edits.
In terms of features, you have professional support to design your products such as groups and color tags, brush textures for illustrations, keyboard shortcuts, pixel preview mode, etc.
Plus, you have plenty of layouts to use for your page sizes, topics, and artboards. Not only that, you can use creative typography to customize your text on any design.
It's crucial to know that Affinity offers print and sharing options for you to turn digital products into physical materials for any purpose.
We are glad to inform you that you can use this design app on multiple platforms like Windows, Mac, or iPads.
GIMP – Artwork expert tool
Quite known in the industry, this design solution can be used for photo editing, art creation, or graphic elements.
With this editing tool, you can design and craft any products you may imagine and then print them for Circuit devices.
More exactly, GIMP is quite popular due to its high-quality picture manipulation and graphic design tools. You can either restore or edit designs in order to make composites.
Besides this, you have diverse color management for giving life to any digital or print media project.
As a last note, you should be aware of the programming language benefit that lets you utilize script images using multiple language support.
⇒ Get GIMP
Inkscape – Precise drawing tools
Not least, Inkscape is a designing tool used by many for creating object drawings and rendering for any project.
With this worthwhile solution, you may craft various designs of any kind and print them for Cricut device or software designs.
To be more clear, there are multiple editing and mastering tools such as shaping instruments, drawing pencils, and object manipulation tools.
Besides that, you have a full-color range to choose from and express your ideas specifically.
Regarding text editing, you benefit from letterspacing menus, multi-line text, or both texts on path & in line.
As mentioned before, you have to render options to help you export your designs and also save them in high-quality formats.
Corel Vector – Cloud and web-based designs
Formerly known as Gravit Designer, this software is an accessible web-based design and editing app that is suitable for Cricut devices.
You can start using this professional tool today and enjoy an easy interface and customizable templates to create any designs.
So, you benefit from strong editing functionalities and vector graphics to help you create any materials like papers for your die press.
At the same time, the solution includes unlimited cloud storage for any amounts of projects and templates.
You can also use typography and live-action tips that can help you improve your project with non-destructive effects.
To make the most out of your Cricut die-cutting unit, we strongly recommend these fantastic design software apps that are compatible with Windows.
Pair them up with some amazing photo editors or with some 2D digital pixel art tools for the best experience possible.
No matter which one you decide to use, you will be able to take control of your creativity. Plus, you'll finally manage to use the Cricut die-cutting system the way that you always wanted to.
If you have any other questions, drop them in the comments section below.
There are 1 comments
add yours