PC Performance Monitor: 8 Best Software to Use in 2023
Monitoring your computer might reveal previously unknown details
PC monitoring software can prevent your computer from all sorts of problems, including BSODs.
Use the best PC

 performance monitor

software to manage your system and detect health issues.
Other solutions from our list include tools for

desktop performance monitoring and networking diagnostics.
PC performance monitoring tools are essential for your computer's health. However a high-end PC might be, it's pretty common for Windows users to start complaining about the sluggishness of the system at some point.
If you want to regularly inspect your computer functionality, which is ideal, you can use PC health monitor tools. For this purpose, it's advised to employ the best HDD health check tools and resolve hardware issues.
In some cases, the problem might be due to low-spec hardware. But more often, it turns out to be something else. Like most things in this world, Windows needs to be taken good care of and serviced regularly.
We strongly recommend giving the following diagnostics tools and software for monitoring system performance a chance first. You might be surprised by how much you will be able to resolve using them!
If you're a gamer, you should pay closer attention to your system so this list also includes the best PC monitoring software for gaming.
How can I monitor my PC performance?
It's comforting to know that everything is operating as it should, whether you're a seasoned professional who fixes computers or a novice who just plays games on them.

In the event that a problem does arise, having the ability to rapidly identify the source of the issue directly from your desktop may help you save both time and, in some instances, money.
We have compiled a list of some of the most helpful and user-friendly digital tools that can be used to monitor the operation of your personal computer and, if necessary, diagnose problems.
What is the best monitoring software for PC?
If you have more endpoints or PCs to manage, we recommend using a professional tool such as ManageEngine OpManager.
This solution comes with many performance metric monitors out of the box, leaving no stone unturned on your network.
Not only that, but you will be able to see the graphical representation of the performance monitor's output for each component in real time.
You don't need to struggle because OpManager discovers new devices and adds them to your network automatically.
The tool will apply a template to every discovered machine according to its category. This template is packed with a list of performance monitors for that category but you can customize it for your particular needs.
Just to get an idea of the complexity that OpManager is capable of, the solution comes with more than 9,500 device templates out-of-the-box and it supports over 53,000 vendor templates.
And if something gets wrong with the metrics you monitor, you instantly get an alert message.
Although this is clearly a professional-grade tool, you can scale it down to monitor just a few computers.
Let's review some of its key features:
Intuitive dashboard with easy-to-use UI
Monitors all key performance metrics such as CPU and memory utilization, lowest resource-consuming devices, and more
Drag-and-drop workflow creator to create and execute simple programs
Virtual system monitoring
Comes with 9,500 device templates and support for over 53,000 vendor templates
ManageEngine OpManager
Monitor the performance of each computer on your network with this professional-grade solution!
PRTG Network Monitor is an all-in-one 24/7 PC resource monitor software that surveys your entire system and is quick to notify you of any potential issues, thus allowing you to take appropriate measures.
By automatically collecting data that is essential to your system's health such as RAM and CPU usage, temperature, bandwidth, and more, this amazing tool proactively checks and takes precautionary measures to increase the reliability of your system.
Let's quickly look at its key features:
Spot damaged hard disks, malware infections, connection failures, and more through the central monitoring
Global proactive detection and health-check tasks
Monitor CPU temperature, performance, and utilization to identify potential issues from an early stage
Has a PC Performance Monitor widget
WMI Memory, SNMP Memory, and SSH Meminfo Sensors to monitor your memory usage
Real-time bandwidth monitoring to prevent network bottlenecks and overloads
Monitor disk space to identify failing operations and boost performances
PC monitoring software for gaming
PRTG Network Monitor
Keep your PC safe and healthy with this advanced software!
AIDA64 Extreme – Best-in-class hardware detection module
AIDA64 Extreme is an advanced PC performance monitoring software with a free version that has real-time diagnostic utilities, in-depth information on both hardware and software as well as overclocking support.
By closely monitoring sensors, AIDA64 is able to collect precise readings for quintessential parameters such as memory and CPU usage, temperature, and much more.
Once issues are detected, the diagnostic utility comes into play to prevent critical failures and damages. What's more, the tool also provides a set of benchmarks to measure the performance of your entire system.
Let's quickly look at its key features:
Best-in-class hardware detection module and accurate diagnostic tools
Multi-threaded stress testing module
Benchmarking option to measure your overall system's performances
Software audit capacities with extensive coverage for DLL files, software licenses, startup programs, and more
Fully customizable SensorPanel to monitor all the various sensors including temperature, cooling system, voltages, fan speeds, etc.
AIDA64 Extreme
An industry-leading system information tool gives very precise information on hardware as well as criteria for high computer performance.
IOLO System Mechanic – Prevents bloatware and startup bottlenecks
System Mechanic delivers the ultimate suite to monitor and improve your PC's performances with as many as seven powerful products crafted to speed up, repair, and secure your entire system. It comes as a PC performance monitor overlay that is easy to use from the first steps.
Boasting a neatly organized interface with a Navigation bar and Content pane for convenient, intuitive, and quick access, you have all the tools you need to monitor your system's performances at your fingertips. Even if it is not a tool that will show you data the way professional ones do, you will have an Idea about what's happening on your PC.
The System Mechanic is an all-in-one PC optimization software with professional clean-up utilities that can remove junk files and repair broken key registries with a single click.
Let's quickly look at its key features:
End-to-end PC health check and resources monitoring through Quick Scan or Deep Scan, as per your convenience (scan the entire system, or choose specific files)
Prevent bloatware and startup bottlenecks
Eliminate useless, resources-consuming apps that run in the background to speed up your PC's response time
PC Cleanup toolbox to remove unwanted junk files, broken shortcuts, temp files, and useless registry entries
In-built System Troubleshooter and automatic monitor and repair set-up
Real-Time Boost feature to automatically optimize CPU, RAM, and storage drives and improve overall PC performance
Iolo System Mechanic
Iolo System Mechanic helps you optimize your PC, improve computer speed, and fix crashes. Don't hesitate to try it out!
Speccy – Analyzes all your HDD components
Speccy is one of the best tools available for letting you know about CPU and GPU temperature and more, for free. Of course, if you choose to go premium, so will the features you will be able to enjoy.
Despite being advertised as a lightweight solution, Speccy is as powerful a program as they get delivering all the tools you need to measure your PC's performances.
Some PC issues are hard to tackle, especially when it comes to corrupted repositories or missing Windows files. If you are having troubles fixing an error, your system may be partially broken.
We recommend installing Restoro, a tool that will scan your machine and identify what the fault is.
Click here to download and start repairing.
And it does so through an advanced system information tool that closely monitors all the sensors attached to your computer.
As far as we see it, this is one software that focuses on simplicity and delivering results. Accurately. And isn't that what you would expect from a health check and monitoring software?
Let's quickly look at its key features:
Quick or in-depth scanning functions to analyze all your HDD components
Detailed reports or quick summaries are available with detailed status for every item measured
Collects data from all the sensors integrated on your PC including temperature, GPU, CPU,
RAM, motherboard, and much more
Real-time monitoring to spot failures and proactively solve them before they occur
In-built snapshot tool to capture scan results and share them later on for diagnostic purposes
Speccy
Get advanced insights on your system's performance and take preventive measures with the fastest detection software on the market!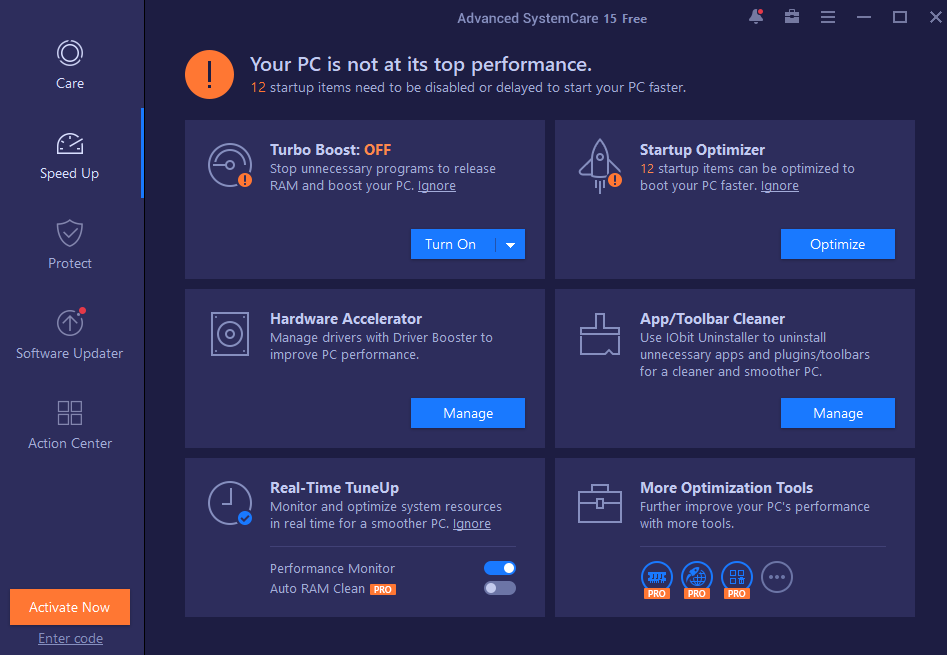 If you're after a tool to improve the overall performance of your system, then Advanced SystemCare is a sure choice.
This is an all-in-one PC optimization utility that carefully monitors your system's health and acts with no hesitation to block malicious links and websites hidden in your email, automatically update obsolete software, optimize your Startup sequence and block untrusted programs.
What's more, it wipes junk files and navigation traces clean, thus increasing your Internet speed, all with just one click. Easy, right?
Let's quickly look at its key features:
Professional PC Clean-up suite to prevent junk file cluttering and free precious resources such as disk space
Internet Booster feature to maximize network bandwidth and increase your Internet speed
Enhanced privacy and data protection
Startup optimization (end useless startup processes and reduce boot time)
Turbo Boost feature to improve your PC's performance and response time by releasing RAM
Software Updater (with 60% more new programs included)
IOBit Advanced System Care
Intelligently clean and speed up your PC based on your optimization habits, automatically monitor your PC performance conditions, and release additional RAM storage.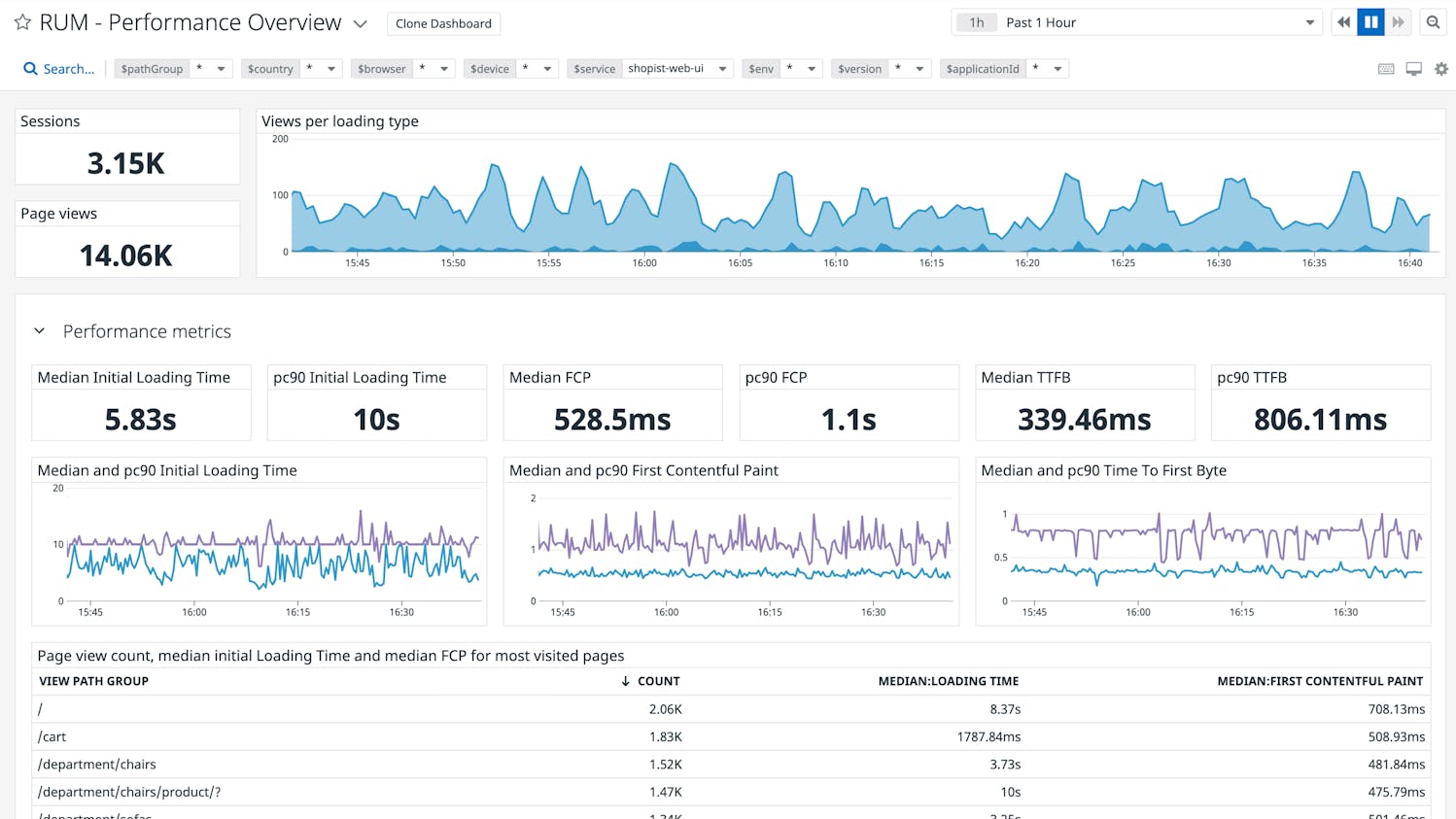 Real User Monitoring (RUM) from Datadog gives a glimpse into the frontend effectiveness of your business from the perspective of user proficiency.
Each user experience is fully connected with synthetic tests, back-end metrics, traces, logs, and network performance data, that help you discover bad user experiences and fix context issues throughout the network.
The monitoring/graphing interface is quite versatile, allowing you to show complicated graphs with no scripting.
Here are the main features of Datadog:
When analyzing issues, swing from RUM data to request traces and logs for full information
View overall frontend performance data or break and split them by country, device, application, and more
With Error Tracking, you can intelligently combine high-volume application problems into a small number of issues
Visualizations such as time series, top lists, and tables may be used to better understand the user experience.
Use characteristics like user ID, email, and name to contextualize user sessions in your apps.
Combine full-stack monitoring in a single platform for frontend and backend development teams.
Using a platform that reveals concerns in a social setting while encouraging cooperation and providing all of the data in one place stimulates more engagement around instrumentation, and root causes analysis, and raises the visibility of possible problems before they become significant issues.
LogicMonitor – Intelligent insights for cutting-edge applications
LogicMonitor monitors hybrid environments if you have on-premise devices as well, which means you'll have everything organized in one tool. It is SaaS-based and very customizable with amazing dashboards as well.
It comes with predefined templates, so you can just enter an IP address and it will detect everything and begin monitoring/alerting/graphing without the need for any coding.
Every aspect of the LogicMonitor experience, from technological architecture to day-to-day business operations, incorporates security best practices.
These are the key features of LogicMonitor:
A formal security software development lifecycle includes many stages of threat modeling and security testing
Based on secure Linux servers with perimeter and host-based intrusion prevention system
Intelligence monitoring for sophisticated IT architectures
Finds containers, microservices, and underlying resources automatically
Intelligent insights for cutting-edge applications – contextually combine traces, logs, and metrics
Monitor key database metrics including throughput, query execution performance, the number of active connections, buffer pool utilization, threads operating, and more.
Dashboards, intelligent alerting, forecasting, and thorough reporting from LogicMonitor provide insight into database performance and application health. Identify deadlocks, bottlenecks, error rates, and other issues quickly.
How does PC hardware monitoring software work?
A PC hardware monitoring software investigates every aspect of the hardware and looks for issues with it. For instance, it will identify the CPU temperature, the power delivered to various components, and whether all of it falls under the optimal range.
The data is then plotted in the form of graphs or simply listed. In case the software identifies an issue, it will highlight the same so that necessary corrective measures can be undertaken and the problem resolved at the earliest.
Some of these work as PC performance monitor widgets while others use the more intuitive concept of PC performance monitor overlay.
Is there a free PC monitoring software?
There are many great applications that can help you monitor your PC, and many users are using CPU monitoring software to keep a close eye on their computer temperature.
Monitoring your network usage is also possible with bandwidth monitoring applications, so you can see which apps are using most of your bandwidth.
Users are also advised to keep a close eye on their power supply, and for that purpose, we suggest using specialized software for testing the power supply. Many of these applications are free, and they can be used with few restrictions, so they are worth checking out.
How do I check my CPU and GPU performance?
Windows 10 and Windows 11 both make it quite easy to monitor the resources that are available on your computer. However, there are people who prefer to utilize third-party programs for this function since those applications provide a superior and more straightforward user experience.
Utilizing some programs can provide you with precise details regarding your CPU utilization or temperature, RAM consumption, or hard disk memory. This is useful if you need complete data for the performance and activities of your system.
We hope that you find all these monitoring tools useful. You probably will not need all of them, so pick the one that seems the most valuable to you for maintaining your Windows PC.
If you have any other suggestions or questions, feel free to leave them in the comments section below.
Start a conversation
comments